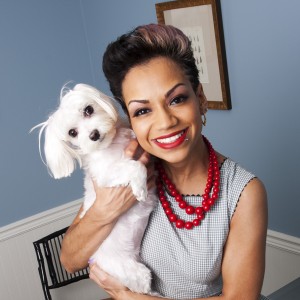 Kirsten is the most famous vet tech you will ever meet. She has starred in two television shows and has sung with pop artists and gospel groups on every continent in the world (except Antarctica). But when she's around animals, the spotlight is always on them.
Growing up, Kirsten spent a lot of time on wildlife refuges in Africa. Ever since then, animals and wildlife have been a big part of her life. Kirsten has a Bachelor of Science in biology from Georgia State University and started working at animal hospitals in 2007. She joined our family at Ormewood Animal Hospital in 2010 and has been a huge help in keeping our office organized, handling lab work and assisting in dental care. She's also a licensed wildlife rehabilitator and is qualified to take in small wildlife such as birds, possums, squirrels and skunks.
When Kirsten isn't busy taking in poor helpless animals at her house, she's probably taking in poor helpless T-shirts with an animal print on them. She's got a collection of patriotic animal print shirts like no one else. We're talking wolves howling at the moon and eagles with flags — the crazier, the better.
Pets
Dogs: Saki, Saber, Pepper, and Lali
Cats: Fur Fur and Dart
Favorite Creatures
Land: Squirrels
Sea: Mermaids
Air: Bats