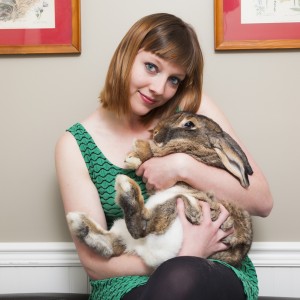 Aubry has been around veterinarians and vet offices since … well, since she was born. Her parents owned an animal hospital in Decatur, Georgia, where she grew up. Aubry helped out around their office while she was in high school and then headed off to study at Georgia State University.
Aubry was originally a film major, but after taking a position as a veterinary assistant with us at Ormewood, she realized that she couldn't turn her back on her love for animals and science. So, she switched her degree to biology, and then left us behind for a few years so she could attend veterinary school at The University of Georgia.
Now that she's finished her studies, we're happy to have Aubry back here with us as a Veterinarian. She's excited to build lasting relationships with pets and their owners, and looks forward to providing care for our patients throughout their lives. Aubry values her experience as a Veterinary Assistant and brings empathy, comfort and understanding to her patients as a Veterinarian. She has a keen interest in oncology, but also embraces opportunities that allow her to continually grow her experience in all areas of veterinary care.
In her free time (i.e. before vet school), Aubry was in a band and loved playing shows around Atlanta. But as she continued her education, it became harder to find time for all those hobbies and interests. Now that she's back home, she is slowly getting back to her other interests like reading, spending time outdoors, and exploring Atlanta's food and beverage scene.
Pets
Dogs: Gus and Norman
Cats: Stripes and Manchego
Favorite Creatures
Land: Possum
Sea: Turtles
Air: Bats