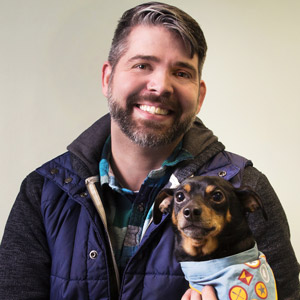 If you want to meet the punniest guy in the veterinary business, look no further than our own Curt Croker. And if you want to meet the most accident-prone guy in the veterinary business … Well, let's just say Curt once broke his ankle by walking—not mountain biking or trail-running. Walking. Across the street.
But don't worry, Curt is great with our patients. He's been around animals most of his life and grew up with all kinds of pets: fish, hamsters, dogs, snakes, guinea pigs—you name it. He would even save animals in need and bring them home to care for them.
Curt earned a college degree in graphic design, but lucky for us, his desire to care for animals persisted. He took a job as a kennel assistant to earn some extra money and eventually went on to earn a degree in Veterinary Technology from San Juan College.
On an average day, you'll find Curt assisting with surgery, anesthesia, dental cleanings, and X-rays among other duties. The feeling he gets knowing he's done something to help an animal in need is one of the most rewarding parts of his job (making puns is the second most rewarding part—and we're not kitten about that).
Pets

Cats: Dumplins and Ozzio
Favorite Creatures

Land: Monkeys

Sea: Dolphins

Air: Owls