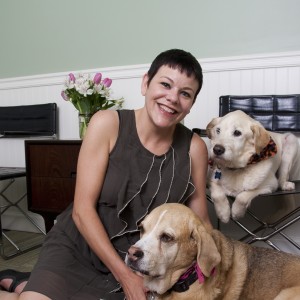 You may know her as Catherine, but around the office we call her Rose (from "Golden Girls"). She's got some bizarre stories that would make you think she was from St. Olaf. Like the one about how her aunt raised giraffes, zebras, wallabies and other exotic animals (right in the middle of the Buckhead neighborhood, I might add). Lucky for us, these stories mean that Catherine has always been around animals and knows how to handle them properly.
Catherine has been a part of our family at Ormewood since we opened in 2010, and has two years of prior experience and on-the-job training. She is an advocate for our patients and makes sure they are calm and comfortable while they are under our care. Catherine's compassion goes beyond animals, and she actively participates in the Breast Cancer 3-Day walk.
Anybody who spends that much time looking out for the well-being of others deserves to treat themselves every once in a while, and Catherine does so by vacationing and collecting Victorian funeral art. When it's not "vacation season," Catherine spends her downtime sipping wine and watching "Beverly Hills, 90210" (when it comes to Brandon vs. Dylan, she is definitely for Dylan).
Pets
Dogs: Ramona
Cats: Max and Griswald
Favorite Creatures
Land: Old Dogs
Sea: Sea Otter
Air: Hawk