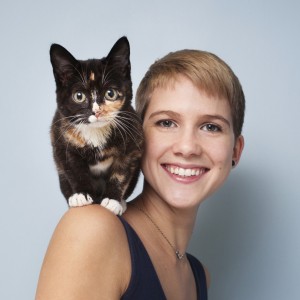 Emily Burke – Registered Veterinary Technician
Some people are animal lovers. Others are art lovers. And we're lucky to have Emily, who loves them both. After finishing a degree in film with a minor in art from Georgia State University, Emily joined us here at the animal hospital as a veterinary assistant.
When she's working at the hospital, Emily tends to the well-being of our patients and their families. She comforts our furry friends "while they're being poked" (those are her words, not ours), though she really loves to assist during surgeries. The act of healing through surgery is something that Emily finds fascinating.
Working alongside Emily, it won't take long for you to realize that her connection to animals and art is strong. Not only did she grow up around Yorkies and cats, but she is also the daughter of a graphic artist.
Today, if you put a blank canvas in front of Emily, chances are she's going to paint a cat on it (who wouldn't want a portrait of her mini-kitten, Mavis?). In addition to painting, Emily enjoys making pottery and playing her ukulele. As far as we know, she has no plans to write ukulele songs about cats.
Pets
Cats: Mavis (a very tiny Mavis) and Marcus
Favorite Creatures
Land: Cats
Sea: Manatee
Air: Pterodactyl