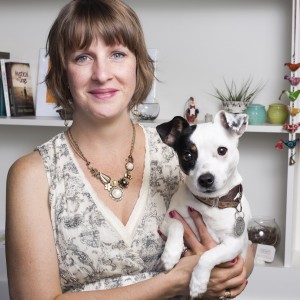 Annie is one of the most stylish veterinarians you will ever meet, although her love for antiquing and knitting will never overshadow her love for animals. Since 1999, Annie has been practicing veterinary medicine in the Atlanta area, focusing on laser surgery, dentistry, and dental surgery (and trying to save every small animal she sees). In 2010, Annie decided it was time to give back to her beloved neighborhood by opening her own clinic, Ormewood Animal Hospital.
At the age of 16, Annie worked as a receptionist at an animal hospital and was inspired by the veterinarians. In 1995, she earned a bachelor's degree in zoology from the University of Georgia. She attended the UGA College of Veterinary Medicine and graduated from both programs magna cum laude. When she didn't have her nose in the books, Annie managed to find time to ride with the university's equestrian team.
If you were to sneak into Annie's office on her lunch break, you might catch her watching an episode of Buffy the Vampire Slayer or Angel (ask her how many times she's watched them all the way through). She's an avid runner, a bookworm, a vegan, and most of all, a friend of all animals.
Pets
Dogs: Gertie, Roolani, Ruby, Ralfie, Olive and Moki
Cats: Arthur
Squirrel: Beatrix and visitors
Chickens: Polly, Speckles, Franky, Nagie, Micky and Mike
Favorite Creatures
Land: Squirrels
Sea: Sea Otters
Air: Fat Robbins